Neues
Blues & Rock Radio Karlsruhe
Rockin´the Blues-24h Rock & Blues
von Heavy bis Soft! allboutBlues & Hot Guitar Stuff ! Electric Blues - City Blues - Chicago Blues - Standards and sometimes a little harder!
Blues & Rock Radio Karlsruhe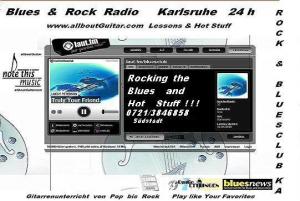 Bandbio
Hallo liebe Blues und Blues-Rock Gemeinde

allboutGuitar Jam gründete 1990 mit einigen Freunden JUKE & THE BLUE JOINT. Wir hatten viele erfolgreiche Auftritte in in BRD, Italien, Österreich und den Niederlanden und zählten zu den musikalisch interessantesten Blues Bands der deutschen Szene.

Neben zahlreichen ClubKonzerten spielte die Band eine Reihe von Blues-, Rock-, und Jazz-Festivals / Specials, unter Anderem mit den folgenden Musikern/Bands:

• B.B. KING - JEAN SHY - BLOOD SWEAT & TEARS
• LUCKY PETERSON - ANGELA BROWN - CHRIS FARLOW
• INGA RUMPF - LUTHER ALLISON - ERROL DIXON
• BLUES COMPANY - MITCHEL FORMAN & CHUCK LOEB BAND
• DAS DRITTE OHR - DIE ZÖLLNER – RAUSCH
• JOACHIM KÜHN QUARTETT - ALEX ORIENTAL EXPERIENCE
• PAUL LAMP & THE KINGSNAKES - PAUL FIELD
• ABI WALLENSTEIN & STEVE BAKER

Als definitiver Höhepunkt muss sicherlich das gemeinsame Konzert mit B.B. KING, vom 01.12.94 gewertet werden. B.B. KING zeigte sich beeindruckt und begeistert von dieser Band und lud sie nach dem Konzert in seine Garderobe ein.

B.B. King:

"I´m no critic. I never would say this music is bad - this music is good. I listen to all kind of music. I listen to jazz of famous jazz musicians and it doesn´t move me. I listen to blues of famous players and it doesn´t moves me. But, yeah, this music does! This music realy moves me. You have a unusual sound, .... realy, a unusual sound. I love this kind of modern blues!

You can count on me, if you like you can use what I said in your papers - I mean what I say. What you are doing is very good. You have a good beat, good arrangements, good horns, good musicians - everybody, it´s well done, the harp is great - what you want more ?

Gentlemen, I'm really sorry that I only could listen to your music for a short time. But I tell you - what I heard was really excellent! Absolutely"

Lucky Peterson:
"That's it! Excellent Performance!"

Louisiana Red:
"Hey, this is a fantastic band! I really enjoyed to play with them! Damn - what a gig!"

Chris Farlow:
"This band is excellent, definitly!"

Luther Allison:
"This band is really on the way. Great band - and the harp player is incredible!"

Ralph Pennland:
"I heard this music and thought: Damn, what a band is this ? A few weeks ago I had recordings with Koko Taylor and Albert Collins and I tell you this band is good too ! Call me, Frank, if you are sick - I would love to sit in"

Peter Erskine:
"Wow, good fat beat - I like it!"

Sterling W. Reaveley, Promoter Columbus/USA:
"The best German blues band I ever heard!"

Dennis Chambers / Gary Grainger:
"Pretty good, ....pretty good!! Please send me this CD.
It sounds great, good played and it's modern. Fucking good."

Toscho' Todorovic, Blues Company:
"Sehr gute Produktion. Gerade für ein CD-Debüt ein unglaublich hohes Niveau."

Dieter Kropp, Radio Bremen:
"Sehr gute Band. Erstaunlich modern und vielseitig. Wirklich eine CD, die sich positiv aus der Masse hervorhebt."

Detlev Hoegen, Crosscut Rec./Radio Bremen:
"Gefällt mir ausgesprochen gut. Für unsere Breitengrade ungewohnt kalifornisch; sprich laid back, virtuos und perfekt im Klang."

On the Road gehe ich heute nicht mehr. Meine Aktivitäten liegen heute bei der allboutGuitar Jam Band und in der Zusammenarbeit mit angehenden Musikern und in Internet-Projekten, die sich mit Blues und Rock(Blues&Rock Guitar Styles) beschäftigen.

Ich möchte einfach die oftmals vergessenen Wurzeln der heutigen populären Musik ins Gedächtnis zurückrufen. Dazu habe ich auch das allboutGuitar Blues & Rock Radio,die allboutGuitar - Lessons,AllboutBues & Hot Stuff sowie einige andere Projekte (Social-Networks) ins Leben gerufen.
allboutBlues
allboutGuitar
Blues & Rock Club Karlsruhe
allboutGuitar Label last.fm
| | |
| --- | --- |
| Bandwebseite: | http://www.allboutguitar.comyr.com |
| Dooloadseite: | http://www.dooload.de/allboutGuitar |
Einflüsse:
Albert Cummings Stevie Ray Vaughan Bill Perry Bob Margolin
Chris Duarte Group Craig Erickson Dave Hole Dave Meniketti Deborah Coleman Derek and The Dominos Duke Robillard Gov't Mule Guitar Shorty Indigenous J.J. Cale Eric Clapton Jeff Beck Peter Frampton Jimi Hendrix Jimmy Thackery Jonny Lang Julian Sas Kenny Wayne Shepherd Band Koko Taylor Lonnie Brooks Luther Allison Lynyrd Skynyrd Memphis Slim Mike Bloomfield Joe Bonamassa Peter Green Robben Ford Andy Timmons Robin Trower Ronnie Earl Rory Gallagher Roy Buchanan Smokin' Joe Kubek Son House Son Seals Sonny Boy Williamson Sue Foley Taj Mahal The Jeff Healey Band The Jimi Hendrix Experience The Vaughan Brothers The Yardbirds Tinsley Ellis Walter Trout Willie Dixon Rolling Stones ZZ Top
Freunde (6)
| | | |
| --- | --- | --- |
| novosounds | BLUEZZ BASTARDZZ | wir zwei |
| Michael Kühr | Musikerpool | Seelentumor |
| | | |
weitere Freunde anzeigen
Gästebuch (1)
| | | |
| --- | --- | --- |
| wir zwei | 11:13 29.09. | danke fürs adden, hast du schon auf meiner seite dir meine eigenen songs angehört, mein song - she needs more... ist auf Platz eins der Dooload download charts und auf platz 2 der streaming charts-deine meinung würde mich interessieren, deine seite finde ich cool, eine schöne zeit wünsche ich dir-richi |
Alle anzeigen
Neuer Eintrag